The Best Sushi in Carlsbad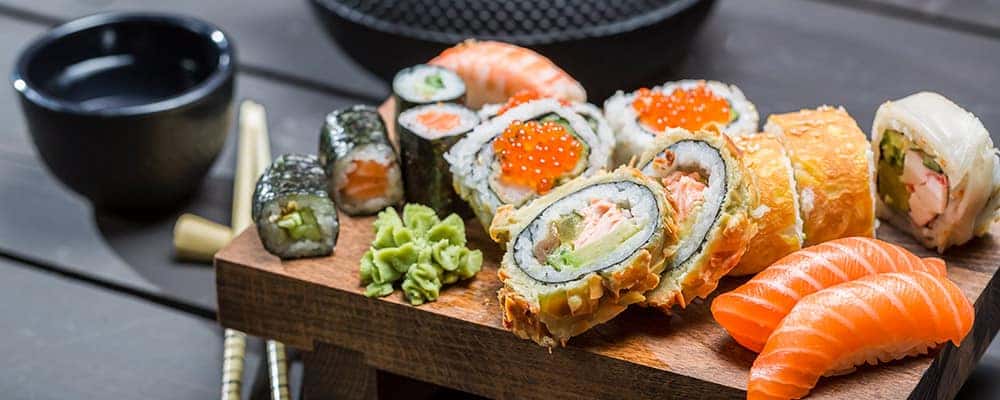 At MINI of Escondido, we're not just your go-to location for routine maintenance and finding new and used vehicles in Escondido. We're also proud to offer our top recommendations for hot air balloon rides in Temecula, bike riding locations in San Diego, and things to do in Carlsbad. If you are craving delicious sushi, check out our recommendations for the best Carlsbad-area sushi restaurants.
Yoshino
With nearly a five-star rating, Yoshino is the go-to location Escondido residents who are in the mood for classic Japanese poke bowls and sushi rolls. This popular sushi cafe specializes in serving fresh sushi in a casual environment. While the poke bowls are a customer favorite, they also serve the best gelato in town. If you don't like gelato, their mochi ice cream will definitely satisfy your cravings.
Address: 2913 State Street, Carlsbad, CA
Phone: 760-889-0309
Hours: Monday through Friday from 10:30 a.m. to 1 p.m., Saturday from 10:30 a.m. to 1 p.m., and Sunday they are closed
The Land & Water Company
If you're looking to try something different, The Land & Water Company is an Asian restaurant located in an historical house looking to bridge the gap between traditional and modern. Their seasonal menus are quality-ingredient-focused, so they only serve organically grown and locally harvested produce, as well as specialty craft cocktails, and responsible, traceable proteins. If you are not a fan of cocktails, they also offer a hand-selected array of beer, wine, and sake.
Address: 2978 Carlsbad Boulevard #110, Carlsbad, CA
Phone: 760-729-5263
Hours: Sunday through Thursday from 3 p.m. to 9:30 p.m., and Friday through Saturday from 3 p.m. to 10 p.m.
Hooked on Sushi
Do you enjoy creative sushi rolls and other Japanese bites? If so, you will want to try Hooked on Sushi. While you're digging into your sushi rolls, enjoy some delicious sake served at this chic and cozy contemporary restaurant. Their top sellers include baby lobster, killer salmon, sashimi, and zombie. Their lunch and dinner menus offer a wide array of dishes, and there is definitely something out there for everyone. Including someone trying sushi for the first time.
Address: 2508 El Camino Real A-B, Carlsbad, CA
Phone: 760-434-8811
Hours: Monday through Thursday from 11:30 a.m. to 9 p.m., Friday and Saturday from 11:30 a.m. to 9:30 p.m., and Sunday they are closed
Visit MINI of Escondido!
Whether you're looking for the best pizza restaurants in Escondido, fun things to do in Escondido, or you need information about buying and leasing, you want to know how to get rid of mold, or you are looking for a quality used vehicle on a tight budget, we have you covered! We're proud to offer top recommendations of things to do in Escondido while making sure your vehicle is running in the best possible condition or helping you find the new or used vehicle that fits your driving needs and budget. Trust the team at MINI of Escondido! Give us a call today!