How Do I Check Tire Tread Depth in Escondido, CA?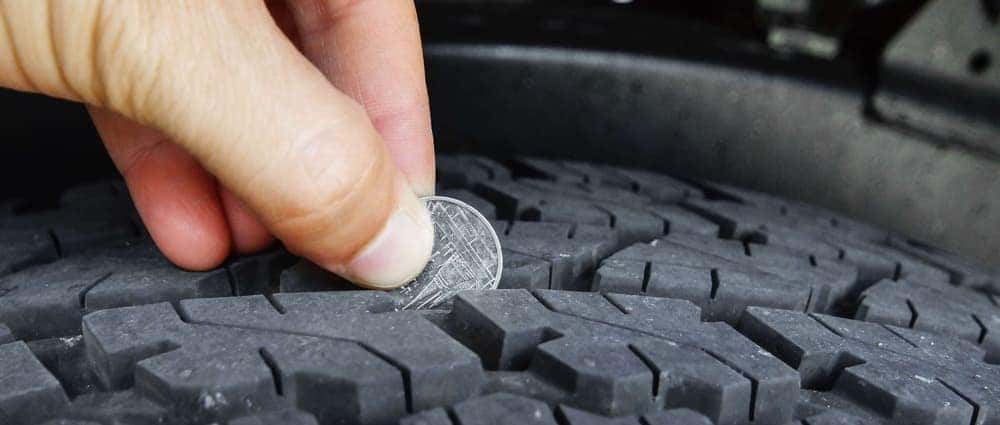 Keeping tabs on tire tread depth is essential for maximum driving performance and San Diego road grip. Learn how to check your tires with a penny or ruler, and drive with total confidence through San Marcos.
What is the Recommended Tire Tread Depth in Escondido, CA?
Brand-new tires have a depth of 10/32 or 11/32 of an inch. This gives Carlsbad drivers total control on wet, icy, or gravely terrain. Other tires designed for winter or off-roading conditions may have deeper tread grooves for increased traction, and are commonly found on heavy-duty trucks or larger SUVs.
The U.S. Department of Transportation recommends replacing your tires once they are down to 2/32 of an inch. This measurement indicates your tires are "going bald" and will not ensure your safety during inclement weather or tricky driving conditions.
Check Tires with the Penny Test
While using a ruler may be the most accurate way to measure your tire depth, a tried-and-true method called "the penny test" will help you evaluate whether it's time to buy new tires. Grab a penny, and follow these simple steps:
With Lincoln's head facing you, place the penny into a tire groove, with Lincoln's head pointed up.
If Lincoln's face disappears, you still have enough tire tread.
If Lincoln's face is still visible, that means your treads are no longer deep enough and it's time to shop for new tires.
More Ways to Check Tire Health in Escondido, CA
Tire tread is very important, but there's more to tire performance than depth alone. While examining your tread depth, it's also a good idea to visually inspect:
Tire pressure
Any visible tire damage
Tire rot or disintegration
Wheel alignment
All of these areas affect the overall longevity of your tires, so if you see anything that gives you pause, schedule a service appointment right away. A certified technician can assess any issues and give you a plan of action.
Maintain Your Tires at MINI of Escondido
The experts at MINI of Escondido are here to help your vehicle perform at its best, and we offer a variety of service specials to make your visit even more affordable. Whether you need to know how to reset a MINI Cooper oil service light, deciding what kind of tires your MINI needs, what a timing belt is, how to stay on your MINI maintenance schedule, or understanding what is tire rotation, we're your trusted Escondido guide!
Do You Know What Your MINI Warning Lights Mean in Escondido, CA? While there may not always be an issue when driving a MINI Cooper, it's vital for drivers to know the details which warnings they need to pay attention to so they don't get into trouble. Our comprehensive list of 68 dashboard symbols includes…

Keeping tabs on tire tread depth is essential for maximum driving performance and San Diego road grip. Learn how to check your tires with a penny or ruler, and drive with total confidence through San Marcos. Schedule Service What is the Recommended Tire Tread Depth in Escondido, CA? Brand-new tires have a depth of 10/32 or 11/32…

At MINI of Escondido, you can expect a MINI oil change to take anywhere from 15 to 45 minutes, so less than one hour is typical. For a better idea of wait times, you'll want to reach out to our team. Learn more about what a MINI oil change entails, how long it will take, and get…