MINI Cooper Oil Service Light Reset Instructions in Escondido, CA
Below is the simple guide from MINI of Escondido on how to reset a MINI Cooper oil service light. If you are one who enjoys working on their MINI in your garage, you may find this answer especially helpful when changing your oil. As a reminder, it's essential for you to follow your specific model's scheduled maintenance plan in order to keep your MINI in prime driving condition. If at any time you find yourself getting stuck or confused, don't hesitate to contact the MINI of Escondido service department about your oil change service.
Reset Your Lights in Under Three Minutes
First, turn the ignition key just before starting the engine. You should see your engine oil service light indicator is on.
Next, press and hold the reset button (trip odometer button) until you see the menu come up (5-8 seconds).
Once the menu is up, go ahead and press and hold the reset button again.
Hold it. Let go of the button, and press it again.
It's now going to reset the oil indicator.
If you need to reset service light, follow these steps:
Insert key and move your key to position again.
Hold and push trip button.
When it asks if you want to reset the service, choose yes.
Wait a few moments as the reset is in progress.
You will see reset success once completed.
You're all set!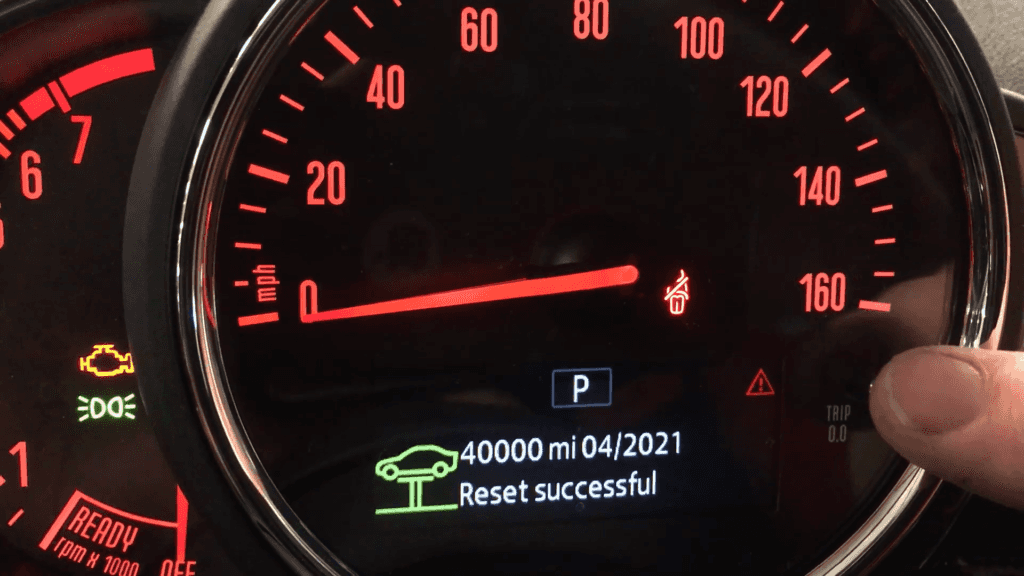 Resetting the Oil Change Light and Service Light are Similar
Keep in mind, steps three through five will be the same if you choose to stop after resetting the oil service indicator light. Your oil light will remain on if there is an issue or if you need to change your oil filter. If you continue seeing any of your service lights go on after you have completed these steps to reset service indicator, please schedule maintenance service with our San Marcos-area service center. Our team of MINI Cooper Service factory-trained mechanics will answer all your service questions, inspect your vehicle to make sure there aren't any issues, and recommend whatever type of service your MINI may need.
Schedule a Service Appointment
Visit MINI of Escondido Today!
Whether you're looking to get behind the wheel of a used MINI vehicle, curious about what can fit inside a MINI, to compare the MINI Cooper vs. MINI Cooper S, would like to know how to wash a car, "why is my steering wheel shaking?", or how to check the tire tread depth, our team is here to help! Don't forget! MINI of Escondido offers a great selection of service specials and coupons to help you save on your next visit.